Need food, housewares or clothes?  Call Together We Cope at 708-633-5040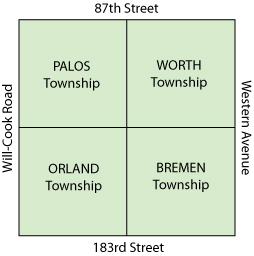 DO YOU LIVE OUTSIDE OF THE TOGETHER WE COPE SERVICE AREA?
Bring photo ID and a proof of address to TWC and we will determine whether or not you live within our service area. If not, you will be provided with a one-time-only bag of food and a list of other food pantries.  Ask also, for assistance from your township office and local churches. If you live in suburban Cook County you can Call the Homeless Prevention Center at 877-426-6515. Chicago residents can call 311.  *Although located within Worth Township, the City of Chicago neighborhood of Mount Greenwood is not included as a part of our service area.

FEEDING ILLINOIS PARTNER AGENCIES
You can locate your nearest Feeding Illinois partner agency and its hours of operations. Just choose your county and if that returns too many locations to choose from, narrow it down by entering your zip code.  http://feedingillinois.org/need/
GREATER CHICAGO FOOD DEPOSITORY AGENCY LOCATOR
Enter a zip code to find a food pantry, soup kitchen or shelter in Cook County or scroll down and click on the map for an agency near you.  http://www.chicagosfoodbank.org/site/PageServer?pagename=member_need_food
DIRECT2FOOD
As of January 1, direct2food.org services have been discontinued. For available food resources in Chicago, please visit the following sites:
Greater Chicago Food Depository – https://www.chicagosfoodbank.org/find-food/
IL Food Assistance Program (SNAP) – Illinois Department of Human Services
NORTHWEST INDIANA FOOD PANTRIES
For pantry listings please contact the Food Bank at 219-980-1777. The agencies are located in the following communities: LAKE COUNTY—Cedar Lake, Crown Point, East Chicago, Gary, Griffith, Hammond, Hebron, Highland, Hobart, Lake Station, Lowell, Merrillville, Munster, Winfield.  PORTER COUNTY—Chesterton, Portage, and Valparaiso.  http://www.foodbanknwi.org
Direct2housing – CHICAGO
(Direct2housing.org has been discontinued.) For available housing in Chicago or elsewhere in Illinois, please visit the following sites:
Chicago Central Referral System
SOUTH SUBURBAN PADS
South Suburban PADS provides shelter and supportive services to homeless persons. Address: 414 West Lincoln Highway, Chicago Heights, IL 60411, 708-754-4357  http://www.sspads.org/