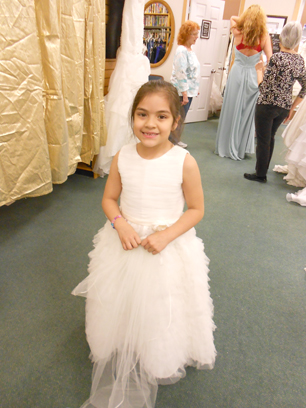 Nearly 1,000 special occasion dresses were on display at Nu2u, Together We Cope's resale shop in Tinley Park, for a special Sunday sale that drew a few hundred people looking for a great deal on prom and evening dresses. Some brides-to-be found wedding gowns from a limited collection, and also discovered dresses for bridesmaids, flower girls and mothers of bride and groom. Moms found cocktail dresses for evening wear and pretty little frocks for their daughters' May communion ceremonies. All dresses were priced from $50 to $75 with discounts for multiple dresses purchased.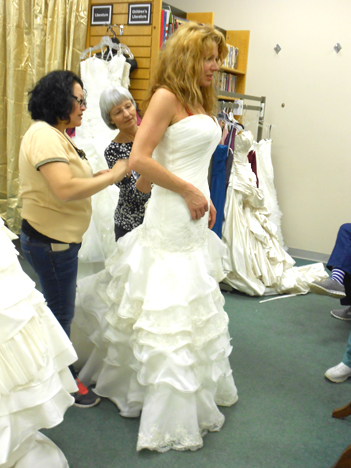 All of the dresses, which are sample gowns, were donated by Eva's Bridal International in Orland Park to benefit Together We Cope client programs. In keeping with Eva's splendid show of generosity, TWC then donated several hundred of the prom dresses to a very special charity in Will County, Melissa's Closet and Crystal's Jewelry Box. That agency is named after two teen-aged girls who died in an auto accident in 2008, Melissa Michalowski and Crystal Carr. Now, every spring, the charity collects gently used prom gowns and sells them for $5 so high school girls can afford to attend the special dance. With TWC's dress donation, the charity hopes to reach many more girls this prom season.
Together We Cope will feature the remaining Eva's gowns during another special sale at a later date, and many of the prom and evening gowns can be purchased now in the Nu2u shop. Hours are 10 a.m. to 5 p.m. Monday, Tuesday, Wednesday and Friday; from 2 to 7 p.m. on Thursday; and 10 a.m. to 4 p.m. on Saturday. Further information is with Cori Scanlan, Nu2u manager, at 708-633-9180.