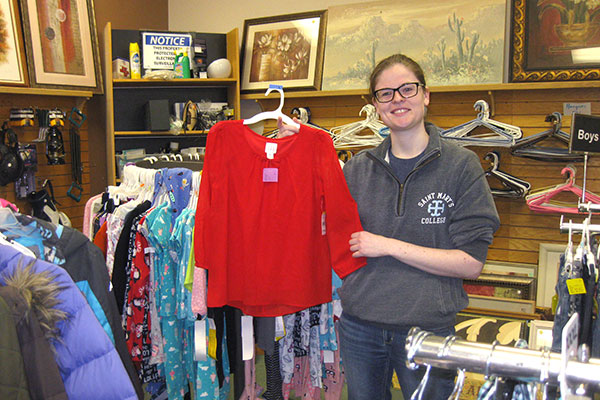 We make kid's clothes a priority at Nu2u. Because of our 50% discount, sudden growth spurts are never a  problem because our prices are so good. Our children's clothes racks are filled with bargains. You can't beat our everyday 50% discount — all prices marked on our kid's clothes are cut in half at checkout time. We price onesies (0-24) from $2 to $5. We price pants & shirts from $3 to $5 and pajamas for $5. Children's winter coats are priced between $25 and $50.
Remember the best part is the 50% everyday discount we give at the register at checkout time! The prices shown above are all cut by 50% at the cash register.
All proceeds from Nu2u are used by Together We Cope to provide temporary help to families and individuals working to overcome an unexpected crisis. The money you spend here might help a senior afford a medical prescription this month or help a hard-working mom pay for utilities while she recovers from surgery at home and can't return to work for a few weeks. Together We Cope uses 92 cents of every dollar helping south suburban residents get back on their feet after an unexpected crisis hits.


Nu2u is the resale shop of Together We Cope. Every purchase made at Nu2u helps Together We Cope assist neighbors in need in four townships bounded by 87th street on the north to 183rd Street on the South, and between Will-Cook Road (County Line Road) on the west and Western Avenue on the east. Residents of this area (excluding the Mt. Greenwood neighborhood) are eligible for assistance from Together We Cope.