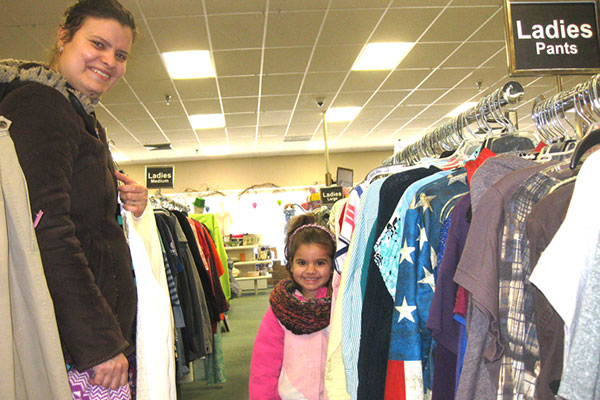 Women's clothes are always on a 50% discount at Nu2u. Warm scarves and hats are priced at $2, sweaters are tagged $6 to $8 or $10 to $25 if new. Long sleeved shirts carry price tags from $5 to $8. Winter coats are marked $25 to $50. Stock up. Summer tank prices run $5 to $6 and T's $5 to $8. Shorts are always priced at $6, and pants from $6 to $8 or $10 to $25 if new. Hats carry a price of $4 (all styles), dresses are marked $10 to $ 20, and fashion scarves from $4 to $6. Add a belt priced from $3 to $5 and a handbag for $1 to $40.
The Nu2u everyday 50% discount makes women's clothes very low-priced.
That's right. Prices marked will be cut in half by Nu2u's everyday 50% discount at checkout time! Great prices on women's clothes are the reason our customers return again and again.
All proceeds from Nu2u are given to Together We Cope to allow them to continue helping others. Shopping at Nu2u might help outfit a student with school supplies next Fall, or put a few children's Christmas presents under the tree of a family whose breadwinner is temporarily out-of-work due to an unexpected layoff. Together We Cope uses 92 cents of every dollar helping others.


Nu2u is the resale shop of Together We Cope. Every purchase made at Nu2u helps Together We Cope assist neighbors in need in four townships bounded by 87th street on the north to 183rd Street on the South, and between Will-Cook Road (County Line Road) on the west and Western Avenue on the east. Residents of this area (excluding the Mt. Greenwood neighborhood) are eligible for assistance from Together We Cope.