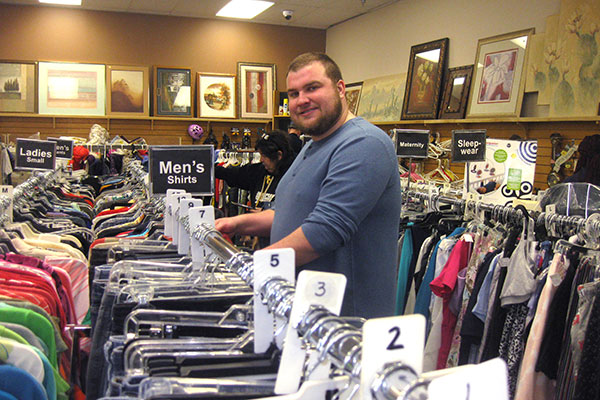 Top quality men's clothes are always available at Nu2u Resale. Our everyday 50% discount at checkout time means that the prices marked on men's clothes at Nu2u will be cut in half at checkout time. We price shirts from $5 to $8 or possibly $12 if new. Buy a tie to go with that shirt. Nu2u ties are marked $3 to $5 or even $6 if new. Need pants or a belt? Our belts are priced from $3 to $5, or $8 if new. You can also find jeans, khakis, dress or casual pants in good condition at Nu2u. Pants prices range from $6 to $8 or $10 to $25 if new. Sweaters are available at $6 to $8 or, if new, from $10 to $25. Need shoes for around the house? We have those, too. We price top menswear labels slightly higher.
Remember that prices marked on our merchandise will always be discounted by 50% at the cash register. All prices listed above will be cut in half at checkout time.
As always, ninety-two cents of every dollar spent at Nu2u are used by Together We Cope to help families and individuals get past an unexpected temporary crisis in their lives. Buy at Nu2u and you might help pay for a little girl's winter coat or enable a family in crisis to put food on their table next week.


Nu2u is the resale shop of Together We Cope. Every purchase made at Nu2u helps Together We Cope. TWC assists neighbors in need in four townships bounded by 87th street on the north to 183rd Street on the South. And bounded between Will-Cook Road (County Line Road) on the west and Western Avenue on the east. Residents of this area (excluding the Mt. Greenwood neighborhood) are eligible for assistance from Together We Cope.