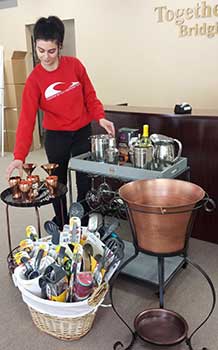 Together We Cope welcomes three presenting sponsors to 'Carnivale' this year's annual dinner dance and silent auction on Friday, Feb. 15 at Odyssey Country Club in Tinley Park. Returning as continuing sponsors are Chuck and Donna Freiberg of C.D.E. Collision Centers, and Dominic and Alyssa Kowalczyk of Construction Concepts of Illinois. New presenting sponsors this year are Nives and Joe Rizza.
Dining and dancing
This year's event, dubbed Carnivale, promises to be a special occasion with Brazilian food items on the buffet menu. Five Guys Named Moe return to play classic rock and roll guaranteed to get you onto the dance floor. Other fun games and entertainments continue throughout the evening.
Silent auction and raffle
As always, many great items are available for bidding through live and silent auctions. This year's selections include a catering package from Meatheads in Frankfort, a birthday party at Synergy Dance Studio, theater tickets and more. "If you can't make it to the event, but would like to see all of our auction items, log on to the official Carnivale website at: https://e.givesmart.com/s/iE5TIm/e/bVk/m, which will go live Monday, Feb. 4," said Mandi Williams, marketing manager.
During the evening, guests can take their chances on the grand raffle featuring an Apple watch, Nespresso Citiz Chrome Coffee/Espresso Maker and a $100 Visa Gift Card. Raffle tickets can be purchased prior to the event for $5 each or $25 for six tickets.
Tickets and sponsorships
Tickets for the dinner dance are $100 per person. Advance registration is required. Enjoy a buffet dinner and open bar for four hours. Reservations are available through Feb. 13. Contact Mandi Williams at mwilliams@togetherwecope.org or 708-263-0302, ext. 6106. Reservations are also available on line at the TWC donation page. Sponsorship and ad book opportunities are still available through Karen Moran at 708-263-0302, ext. 6104 or by email at kmoran@togetherwecope.org.
This party is the agency's major fundraiser each year. Hundreds of area residents who support the mission attend and enjoy a great evening.
[TWC Homepage]    [Nu2u Homepage]