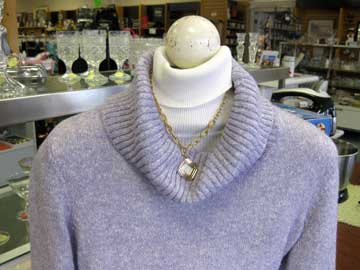 We have a wide selection of gently used (and sometimes new) clothing, furniture and household goods that is constantly changing. Items are always well priced. It's a great place to shop for a bargain and a fun way to lend support to Together We Cope.
Your support is vital to our providing much needed services such as financial assistance, food assistance, and crisis intervention.
Recycle your sweater, coffee maker or couch
Next time you clean out a closet or cabinet, bring your clothing, housewares, decorations, even furniture to Nu2u Resale Shop. If the furniture is too large to fit your vehicle — call 708-633-9180 to make an appointment for a large furniture donation pick-up. We keep the Together We Cope truck busy picking up large furniture donations whenever it is available.
Find the deal of the day
Every Friday is 10% Seniors' Discount day. With donations coming in daily, the store draws collectors, bargain hunters and smart shoppers. Click here for shop hours and location.
The workers were very helpful, I spent almost $100.00 dollars for items that will benefit many people in need. I would recommend this store to others as a great place to shop for items. — Mercedes
All proceeds go to support Together We Cope.
Volunteer at Nu2u
Share your time and talents in our store, or at one of Together We Cope's special events. Contact Volunteer Coordinator Cathy Trongeau at 708-633-5040, ext. 7221.
[Together We Cope homepage]    [Nu2u homepage]


Nu2u is the resale shop of Together We Cope. Every purchase made at Nu2u helps Together We Cope assist neighbors in need in four townships bounded by 87th street on the north to 183rd Street on the South, and between Will-Cook Road (County Line Road) on the west and Western Avenue on the east. Residents of this area (excluding the Mt. Greenwood neighborhood) are eligible for assistance from Together We Cope.