For help call Together We Cope at (708) 633-5040.
Click here for the Together We Cope Client Services schedule.
Our receptionist will ask for your name, phone number(s), size of family, address and which type of help is needed. A case manager will return your call.
Together We Cope provides help to Southland residents in many areas including the following
Urgent services
shelter assistance
flood- or fire-victim assistance
medication assistance
domestic violence assistance
Financial services
housing assistance (rent/mortgage/security deposit)
utilities assistance (gas/electric/water)
Non-financial services
food
clothing
transportation
referrals and resources
The mission of Together We Cope is bridging the gap for Southland residents in temporary crisis by providing food, shelter, clothing and referrals, empowering them to return to self-sufficiency.
Bring your ID.
Bring to the pantry an ID and a piece of mail, postmarked within the last 60 days that shows your current address. Individuals residing within our service area boundaries are eligible to receive groceries for themselves or their families once a month. Individuals who do not live within our service area are allowed one bag of emergency food, one time per year.
Seek help also, from your township office
Food, health, and other services are often available from local churches and your township office.
Bremen Township Produce Mobile
Click here for information about the cost-free produce distributed once a month at the Bremen Markham Office by the Greater Chicago Food Depository, sponsored by TWC and Bremen Township.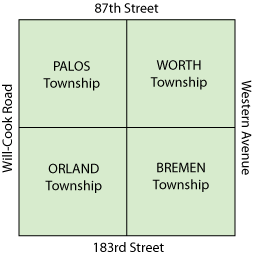 *****************************************************************************
Together We Cope provides help for residents of Bremen, Orland, Palos, and Worth Townships.
Do you live outside of our service area?
Click here to contact township offices outside of TWC's service area.