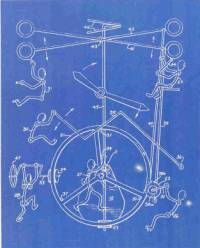 GORDON BRADT founded Kinetico Studios in 1972 after his retirement from Bell and Howell's Motion Picture Camera and Audio Visual Groups. His experience with precision movie camera mechanisms is evident in his work. His webpage says, "An inventor by nature, Bradt has also been awarded over 2 dozen U.S. patents in such fields as auto loading tape recorders, electric vehicles, musical instruments, film cartridges, and his kinetic art mechanisms."
The original invoice shows a date of December 9, 1983. This clock was sold by International Galleries, Ltd. at Orland Square Mall in Orland Park, Illinois.
Call 708-633-9180 for detailed information.

Bradt designed the Six Man Clock, including the mechanism that drives the little men as well as the helicoil gears and gear train that makes the clock keep time. The clocks are highly polished and coated with clear lacquer. The little men and the unique coiled gear train are driven by an electric 4rpm synchronous motor.
There is no gallery selected or the gallery was deleted.