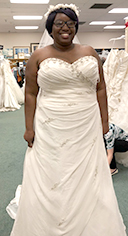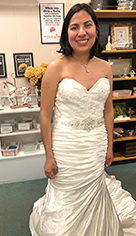 Nu2u was awash in silk, satin and lace during our two-day sale of special occasion dresses donated to our agency by local bridal shops. Hundreds of sample dresses for the bride and bridesmaid, as well as prom and other dressy occasions, were available in all sizes for this special sale.
"Since the sale, we've received even more dresses from our generous business supporters in the community," said Trina Arvetis, Nu2u manager. "Right now we're planning another dress sale in the fall, on a date to be announced." The fall sale event will feature a wide assortment of bridal gowns for spring and summer.
Trina said the selection was amazing, including some designer names that retail from $2,000 to $3,000. Prices at the recent sale ranged from $35 to $75 per dress, allowing many women of all ages to afford a fabulous dress for their special occasion.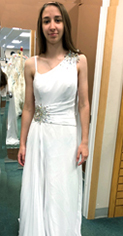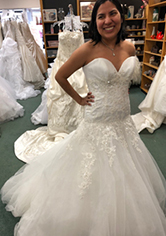 Revenue generated by sales at Nu2u, including from the special dress sales, is used to support client programs offered by Together We Cope to south suburban families in temporary crisis. Without the support of the community, Together We Cope could not continue in its mission to assist our neighbors in need. "We are grateful to the local businesses who continue to support us each year in all of our endeavors," Trina said.